Travelling back home to Munich from Cape Town, I often choose to do a stop-over in Dubai. Reason being that from South Africa the Emirates airline usually offers cheap flights to Dubai and from there to Munich. When searching for flights to Dubai (and Munich) I like to use Travelstart and book my trip with them.
I always think "why not discover Dubai on the way". Of course you don't have to visit Dubai in form of a stop-over. If you can get cheap flights to Dubai, book them and enjoy a holiday that promises time at the beach, sightseeing, great shopping and excellent cuisine.
For my first stop-over a few years ago, my mind was filled with the classical "Dubai cliché": Soaring sky scrapers, fancy cars, sheiks and artificial parklands in the middle of the desert. Some clichés are there for a reason. Still, I was yet to be surprised during my three day stay in this buzzing city. Since my first stop-over I returned to Dubai a couple of times and I just came back from my latest break in this magical city.
Have I mentioned the 40°C during summer days? If you are really interested in sightseeing and don't like the heat too much, I highly recommend travelling to Dubai in March or April. Otherwise it might be a very unpleasant experience for you. I usually go in June when it's really hot but the advantage is, that it's out of season and you have less tourists around.
Dubai offers something for everyone, so it's really on you to decide what you want to do and see. I usually stay in the JBR (Jumeirah Beach Residence) area. I just love the vibes there. It's by the beach and most hotels offer sea views and some even private beaches and palm gardens. Imagine walking along the beach promenade "The Walk", that is lined with buzzing cafés, restaurants and lounges whilst the ever twinkling Dubai Marina with its high skyscrapers is in the background towering over you. Expect some extra magic at night, when everything glitters around you.
If you want to know where I prefer to overnight, check my blog post here: http://www.theveganrainbow.com/travel/the-sheraton-jumeirah-beach-resort-dubai/
So what can you do in Dubai in about 3 days ? I joined a guided city tour for my first visit in order to get some orientation and an idea of what Dubai has to offer.The tour gave a good overview of the most important sights of Dubai, including a photo stop at the Burj al Arab Hotel, the Jumeriah Mosque and the beautiful Palace of Dubai. Head over to Dubai museum in order to learn more about why and how Dubai is what it is today. It's also a place with lots of aircons and therefore a good place to survive and escape from the blazing heat. One of my highlights on the guided tour was a ride in a traditional Abra boat across the Dubai Creek. Arriving across the river, I finally found myself in the old city of Dubai. This was actually the moment when I realised that I was in the Middle East. Just follow the scents of the spice souk and you'll know what I mean.
If you prefer to do things more flexible and in your own time, I highly recommend using the sightseeing bus, which also takes you around Dubai's famous sights.
Another interesting half day tour is the 'modern Dubai' tour. Together with our English-speaking guide, we went to see Dubai's famous palm-shaped artificial island "The Palm". The tour included a visit to the legendary Atlantis Hotel along with its stunning architecture. Following that, we took the Monorail, an automated train without a driver. I'll never forget the rewarding views of the skyline of Dubai: Definitely have your cameras ready.
Next up, we went to see the Dubai Marina. Another truly amazing dimension of this breathtaking city, that never sleeps. The tour ended at the famous Dubai Mall, a kind of super-sized shopping centre. With Dubai being known for its malls, this is something you just have to see and experience. Highlight of the whole stop-over in Dubai was taking that lift up the highest building in the world, Burj Khalifa.
I've been to Burj Khalifa now for 3 times and it's just kind of addictive. I want to go back up there every time again. Are you scared of heights ? If so, you might not want to go up this building. Don't tell me later that I didn't warn you.
The entrance is located right inside Dubai Mall and I usually spend a good couple of hours up there "At the Top", a panorama lounge at the 124th floor of Burj Khalifa, soaring 828 metres into the sky. Did you know? It only takes 90 seconds (!) to reach the 124th floor.
Hard to put a view such as this one into words. I guess you have to experience it for yourself.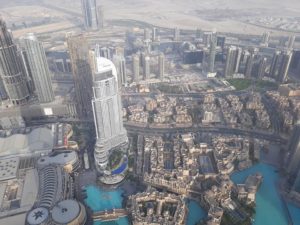 As you can see, there's lots to experience in 3 days. This time I even managed to squeeze in another Emirate and visited Abu Dhabi. It was my friend's idea as she wanted to see the Abu Dhabi Louvre. Yes, you heard right, the Louvre Abu Dhabi opened its doors in November 2017. This is a must-see for every art lover, but also the architecture is already worth a visit on it's own.
After an educational morning in the museum, we went onto the famous Sheikh Zayed Mosque, which has been on my bucket list for a long time. My expectations were more than exceeded and I cannot put this amazing site into words. Despite the heat of about 46° C, I highly recommend visiting the Grande Mosque. I wish I could describe it for you, but it's simply impossible. The Sheikh Zayed Mosque is one of the most beautiful things I've ever seen.
Dubai might seem small on the map, but it's an action packed place with endless activities, luxury resorts, incredible architecture and in my mind friendly people. I always say, there's nothing Dubai can't offer..My next stop-over might be a year away, but I cannot wait to be back in the dynamic and ever sparkling city of Dubai