It's no secret that I'm a little bit of a sushi addict and would jump at any opportunity to enjoy some vegan sushi. Luckily there are many plant-based vegan sushi options in Cape Town these days and I feel that chefs get more and more creative with those little rice gems. 
I was recently invited by Active Sushi on Bree in Cape Town to try their new vegan menu and was over the moon, so happily accepted the invite.. Active Sushi has been a firm favorite of mine since last November when I celebrated my birthday there. A lot has happened and the vegan menu is constantly growing with new fancy items and I love supporting them for their efforts promoting Veganism. In other news they run an all you can eat special on Mondays and Tuesdays for Rand 199. Trust me, this is so worth it and comes highly recommended. 
The restaurant is situated right in the buzzing CBD in Cape Town and offers outdoor and indoor seating. Active Sushi on Bree is a small establishment and the Asian-inspired décor minimalistic, modern and clear. It's perfect for meeting a friend, family gathering, group outing or a date night. Apart from the food menu, they offer a small wine list, beers plus other beverages. So, if you are looking for some nice vegan and good value for money sushi, read on…. 
Before I dive into the new additions of the menu, let me introduce you to some good old favorites;
The Vegan Rainbow Roll
Yes, you are reading correctly, this roll has got the same name as my blog, which is pure coincidence but I totally love it! The name reflects my blog really well actually if you look at the picture below.. Colorful and diverse like a rainbow.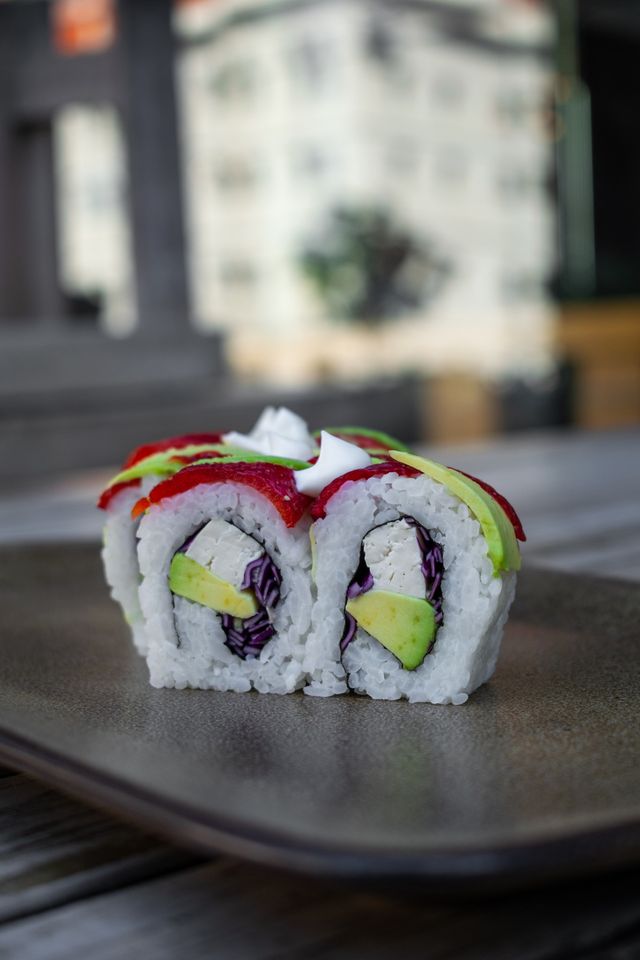 🍣 Vegan Rainbow 1 –  Tofu, rocket, red cabbage, avo, strawberry, mayo
💰 R 75 (8 pieces)
💭 Apart from the name I love the fact that they use strawberry, representing the salmon or tuna, that is usually used in a traditional rainbow roll. The strawberry gives it a fresh and sweet touch and the creamy vegan mayo is literally melting away in your mouth. The tofu is great as a protein and the red cabbage makes this a yummy crunchy roll. 
🌈🌈🌈🌈🌈 Verdict: 5 Vegan Rainbows and I'd order this anytime again
The Sweet and Spicy
The name already says it all. Love this combination and believe me, sweet potato on sushi is a life-changing experience.
🍣 Sweet and Spicy –  sweet potato, tofu, basil, avo, topping tempura onion, fried sweet potato, spring onion, spicy signature sauce, vegan mayo
💰 R 95 (8 pieces)
💭 This dish will spice up your life and give you the sweetness you deserve. Not forgetting the crunchy topping tempura onion that is a pure highlight here. I don't know exactly what's in it, but the signature sauce will make you come back for more. What a combination that is!! Full of little surprises once in your mouth and bursting with flavors. If you are a little bit adventurous you'll love this yummy, creative and fancy-looking roll. 
🌈🌈🌈🌈🌈 Verdict: 5 Vegan Rainbows and I'd order this again in a heartbeat. 
The Mushroom Bomb
One word; B.O.M.B.A.S.T.I.C  Apparently this word means something negative in English.. some English native speakers told me it means something great. Either way, in my mother tongue, German it means something amazing, so whether you can use the word bombastic for something positive in English or not, this roll will blow your mind (and taste buds). 
🍣 The Mushroom Bomb –  avo, mushroom tempura, red pepper, rocket, signature sauce, mayo, spring onion
💰 R 90 (8 pieces)
💭 The Mushroom Bomb is a firm favorite amongst vegans in Cape Town, understandably so. If you ask me, this will be one of the best things you'll ever eat . Like with the Sweet & Spicy roll, the chefs used all their creativity and the outcome is outstanding. Your taste buds will thank you for putting this stunning creation into your mouth. The mushroom tempura is beyond delicious and the red pepper, rocket and spring onion give it a fresh feel. For some extra creaminess you'll love the combination of the avo, mayo and signature sauce.
🌈🌈🌈🌈🌈Verdict: 5 Vegan Rainbows and I'd gave it a hundred if I could. It doesn't matter with whom I visit Active Sushi on Bree, this dish usually gets a big thumbs up and at least a second order. Highly recommended! 
Those were just some of my personal favorites, but actually there are too many to mention. I also love the roses 4 Season and the creamy  Avo Inari. 
New additions to the menu
Active Sushi on Bree recently extended their vegan menu and some of the new items are:
Sushi Burritos (choose between tofu and mushroom). Vegan Tuna Roll, Tomato Nigiri, Green Roses, Crunchy Tomato Roll
Check the Active Sushi on Bree full vegan menu here:
To be honest, I haven't tried all the new vegan options yet, because the portions at Active Sushi on Bree are very filling and usually my eyes are bigger than my appetite. The mushroom burrito was sushi with a twist,  delicious and filling and the tomato Nigiri interesting and yummy at the same time. I don't really like tomato (ask my Mom), but I'd order this again any day. One thing is for sure: I'll be back soon to try the rest of the new additions on the plant-based menu. Apart from the full vegan sushi menu, you'll also find other vegan options like a plant-based poke bowl. The menu clearly marks vegan and vegetarian and the waiters are very knowledgeable too on the plant-based dishes.  If I had one wish, it was a vegan dessert. Perhaps the chefs can come up with some Asian-inspired vegan pudding.. Just putting it out there 😉 
How was the Active Sushi on Bree Experience?
Active Sushi on Bree once again exceeded my expectations and my friend and I had a relaxed evening, enjoying this petite restaurant, stunning décor and top quality vegan sushi. The mushroom bomb was ordered more than once and to my surprise Active Sushi on Bree has a fine selection of French beers that my friend said he enjoyed. If you order some wine, you'll notice that they have an interesting alternative that is served instead of ice. During the entire evening, the service was friendly and attentive, making one feel comfortable and appreciated. Since they don't have a dessert on the menu, my friend suggested that I tried some Japanese rice wine to round off the evening. I'm a huge wine-lover but rice wine was something new to me. Now I'm glad that he introduced me to it and I'll definitely have it again. That stuff got better and better with every sip! 🙂  All in all a fantastic experience and  Active Sushi on Bree is a #VeganFriendlySA recommendation! Thank you again for the invite and great evening, dear Active Sushi Team!
Now that I made you all craving some vegan sushi, here's how to secure your spot at Active Sushi on Bree:
RESERVATIONS
NOTE: Bookings made here must be 12 hours in advance.
If you want to make a short notice booking then rather call us to find out if we have a table available for you.
TEL | 021 418 0064
ACTIVE SUSHI ON BREE
TRADING HOURS
MONDAY TO SATURDAY | 11:30AM – 10PM
Not open on Sundays
TEL | 021 418 0064
4 BREE ST | PORTSIDE | FORESHORE | CAPE TOWN
*I was hosted by the restaurant. All opinions in this review are my own // Menu and price up to date on date of publishing this article // * Image Credit: Active Sushi on Bree