Since my first ever visit to Dubai a few years ago, something keeps drawing me back to this magical city in the desert. I know Dubai isn't for everyone but I just love it. There's so much to explore, but I'll get to that in a separate blog post.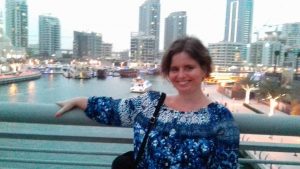 But where to stay?
Dubai is known for its glamourous and luxurious hotels and they can literally be found in almost every corner of the city. I personally prefer staying in the JBR – Jumeirah Beach Residence. In this area you can combine a city and beach getaway at the same time. On my last Dubai trip I stayed at the 5 star Sheraton Jumeirah Beach Resort and would check in there anytime again.  It's one of the older properties and unlike most beach front hotels not a skyscraper. The resort is spacious and boasts a 10.000 square meter landscaped garden with a direct beach access. What more would you want?
On the one side you basically face the famous The Palm and on the other one the skyscrapers of the Dubai Marina. The view onto the marina is absolutely spectacular at night time. Don't miss out!
The family friendly resort offers 256 comfortable rooms in different categories. My mom and I opted for a standard room and were very pleased with that option. You don't really spend much time in the room anyway. There's too much to do and see in Dubai. We actually arrived early in the morning, way before the official check-in time. The staff made us feel very welcome and we could enjoy breakfast whilst waiting for our room to be ready. It didn't take long and we could settle in at our comfortable room with beach and sea views. Some welcome delights even awaited us to start our holiday. What a nice surprise (not vegan, so mom had them all to herself).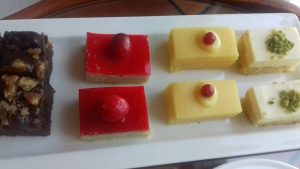 As mentioned above, I enjoy staying in the JBR – Jumeirah Beach Residence area. Step out of the Sheraton Jumeirah Beach Resort and you are basically already at 'The Walk', a buzzing boulevard offering countless shops, boutiques and alfresco dining options. Alongside the waterfront you'll find a beach promenade with even more eateries and shops. If you want to visit one of Dubai's famous shopping malls or want to explore the city, many taxis can be found alongside 'The Walk'. Dubai's modern public transport is in walking distance from the hotel too and another great way of exploring Dubai, is taking the sightseeing bus. A stop for that is also just a few steps away from the Sheraton Jumeirah Beach Resort. You see, it's the perfect location.
Many days were spent at the hotel with its various facilities including a Spa and big pool. We either relaxed in the beautiful garden under the palm trees or down at the beach on a sun lounger, making use of the full bar service.
The pool bar is fantastic for a light lunch, which for me was mostly the yummy sweet potato fries. Speaking of food. The resort boasts a variety of restaurants and cafés, offering different cuisines. On most nights we had dinner at the authentic Italian Ciao Restaurant. The chef had no problem accommodating me as a vegan and I loved the pizza and pasta dishes. One evening I was surprised with a delicious polenta dish.
Have I mentioned breakfast yet? My mom and I still rave about the breakfast buffet.
Since I never had a problem as a vegan in any Dubai hotel before, I didn't even make the effort to notify the resort in advance. As usual I wasn't disappointed. The extensive buffet had something for every palate and I fell in love with the olive bread and authentic Middle Eastern hummus. A must eat!! To top it all there was soy milk and fresh fruit available daily. Not forgetting the dates. I mean Dubai and dates.. you just have to try them.The hot buffet consisted of the usual, but I enjoyed the hash browns and baked beans. Unlike in most hotels, the buffet offering changed almost daily and I didn't get bored during my 7 night's stay.
If you are a conscious and 'green traveller' than this hotel is also for you. The Sheraton Jumeirah Beach Resort is awarded with the 'green key certification' and all their environmental practices can be found on their website.
I haven't been paid to write this, but the Sheraton Jumeirah Beach Resort is by far my favourite address in Dubai. Nice and clean resort, friendly staff, comfortable rooms, amazing breakfast and the excellent location make this resort a true winner.
For further information and reservations follow the following link:
http://www.sheratonjumeirahbeach.com/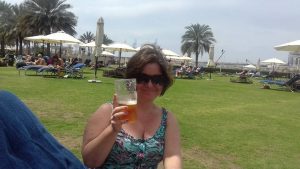 If you are still looking for a vegan friendly hotel in Dubai, the Sheraton Jumeirah Beach Resort is a great option. We would definitely stay there again and hope to do so soon.
Disclaimer: I booked the Sheraton Jumeirah Beach Resort for my Dubai holiday with my mom via an agent and this is not a sponsored post in any way. All opinions in this article are my own and based on my personal experience. Since the hotel picked up my active live tweets during my stay, we were upgraded to half board. We'd like to thank the hotel for the upgrade received. All images in this post are my own.