When I moved to Cape Town in 2005, housemates and friends already told me about Beluga Restaurant and its amazing sushi specials. Over the years I frequently visited the upmarket eatery and always enjoyed sitting in their courtyard, sipping on cocktails and tucking into sushi platters. Back then I wasn't vegan let alone vegetarian. In 2010 I became vegetarian and a few years later vegan. Going out for a meal became more and more difficult and I stopped visiting many restaurants which I used to like, simply because of the lack of vegan options. Unfortunately Beluga was one of them.
The GOOD NEWS is, that Beluga Restaurant Cape Town is now offering many VEGAN options on their menu. When I first heard about it, I expected some vegan options like avo and cucumber maki, but the vegan offering is just extensive and it makes it hard to choose. If you are not a sushi fan, don't worry. Beluga has got you covered as well. There's salads, pasta dishes and other vegan mains to satisfy your palate.
My mom recently visited me in Cape Town and on one of her last nights, we went to Beluga as a farewell dinner. The restaurant is still very stylish and I just love the décor and vibes.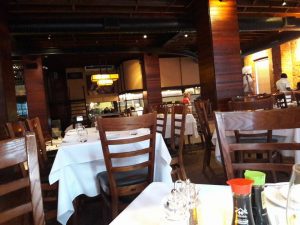 Let's start with the service. It was my first visit to Beluga in a long time and the service we received was excellent. Our waitress 'Faith' gave it her all and also helped us choosing wines. Since we couldn't quite decide on the wine, we both got tasters and that was really helpful.
Being an absolute sushi addict, I just had to go for the vegan sushi. Browsing the menu, I was very torn between the pasta dish 'vegan panzerotti' which sounded very tempting and the sushi options. Oh well, there's always a 'next time'. I gave Faith my order and she interrupted me: "that is already 15 pieces". I just had to laugh. I don't do sushi under 22 pieces.. She was a bit shocked, but took my order as I went along. It amazed her, that I actually finished my plate in the end. Is that a bit crazy? Please let me know in the comments,  if there's any other sushi lovers out there. I ordered (a lot) avo maki, California rolls and the tofu crunch rolls and was even tempted to order the vegan bean curd as well. But that would have just been too much that evening. The menu boasts vegan desserts too, so I needed to leave some space for that of course.
When Faith came with our orders, I was just in awe. The sushi was beautifully presented and tasted amazing. The tofu crunch is my new favourite and Beluga Restaurant certainly knows what a vegan wants. The yummy tofu crunch rolls are topped with vegan mayo. How amazing is that? You can have sushi like all the others and you know your version is 'safe to eat' and cruelty free.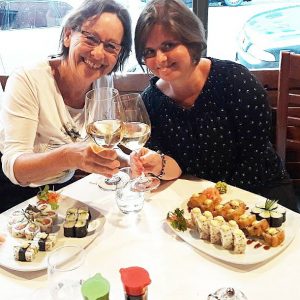 To end this fantastic dining experience, I obviously had to try a vegan dessert. Beluga offers 2 desserts on the menu. I suggest you order both and share with your partner? I tried the vegan cheese cake duo this time, hoping to visit again soon to try the other dessert. Not forgetting the coffee. I enquired with Faith, if it was possible to have a coffee with soy milk. Faith suggested a soy cappuccino. Even better! The cheesecake duo was heavenly and makes one come back for more.
Beluga has once again won my heart and I can't wait to be back. The vegan panzerotti dish is still waiting for me after all.
If you are visiting Cape Town or living in the Mother City, then I highly recommend a visit at Beluga. Not forgetting some amazing specials, like HALF PRICE on sushi before 6pm.
For more info & bookings go to https://beluga.co.za/