Hello to all of you. Sorry for the lack of posts recently. Since blogging doesn't really pay my rent, I had to work a 'little' bit and also just attended the World Travel Market in Cape Town.The show was very interesting and I got really inspired to travel to other parts of South Africa and Africa plus it's always lovely to meet and catch up with all the other travel bloggers around. The only negative was that there was NO vegan food available at the Convention Center in Cape Town. I was offered a roll with plain salad leaves for the same price as their "normal" burger at RAND 55.00. No thank you. I mean what a rip off is that? Very disappointing for a world travel show. Oh well.. perhaps next year… Yes I could have been  more prepared, but really expected at least one vegan option at the Convention Center.
Since I travel fairly often, people always ask how I manage to travel as a vegan. In the very beginning I also thought it might be difficult to travel with a dietary requirement that is sometimes unheard of and yes, I've had my fair share of challenges in the past. But the more I travel as a vegan, the better I become at "vegan travelling".
There are many articles on vegan travelling already, but today I'd like to share my personal TOP 5 VEGAN TRAVEL TIPS with you. You are more than welcome to add yours in the comments of course.
1.) ADVISE YOUR DIETARY REQUIREMENT IN ADVANCE
When looking for accommodation that includes breakfast or even lunch/dinner, I always contact the hotel way in advance. Unless I travel spontaneously of course. In my experience, it's important to contact the right person. I often message establishments on Facebook, as social media managers answer quickly most of the time and ask for the contact of the food & beverage manager. With smaller establishments I email the guesthouse / hotel manager directly and explain my dietary requirement – vegan. If you just say vegan, they might not exactly know what it means. Often staff will just assume that you said vegetarian. In my emails I like to give examples of what I can eat. This gives the hotel a much better picture and the last thing we want is to scare them off. I tell them that I could have avocado, baked beans, potatoes, mushrooms etc.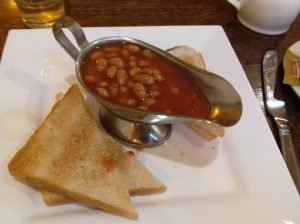 I also usually ask the hotel in advance whether they could organise a plant milk for me, so I can use it in my coffee or cereals.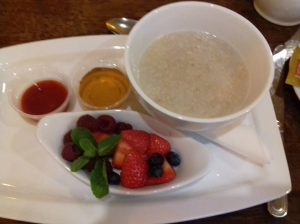 I try not to be too fussy as I appreciate every little effort made by the establishment in question. Most of the time I even get surprised and the hotel goes out of their way to cater for me. Before I depart for my destination, I usually send the hotel a reminder, to please confirm my dietary requirement. It's always good to have things in writing these days. Again this only applies if you are booking a hotel/guesthouse. For Airbnb stays or hostels you need to cater for yourself.
2). GET VEGAN SNACKS FOR THE TRIP
This is nothing new and most of us plant-eaters are prepared when traveling, but as a new vegan you might find this helpful. When travelling by plane and it's a long-haul flight, make sure to order your vegan meal in advance. If you forget, you won't get anything as most airlines need the notification more than 48 hours in advance. I used to order my vegan meal directly after the flight booking online, but since I mainly fly long-haul with Emirates these days, I have the dietary requirement set up with my skywards account. So if you have joined any loyalty programme with an airline, you should be able to save the vegan option in your profile. That way you'll receive the correct meal and you cannot forget to order it in time for your flight.
For short hauls I like to take snack bars, veggie chips like from Eat Real, dates and sandwiches etc. I think everybody has got their own favourite snacks they pack when travelling. The same of course goes for road trips. For long drives it's a good idea to pack some snacks and most of you will do that already when travelling by car. Last year my mom and I drove from Germany to the Adriatic Coast in Italy, which is about a 6 hours drive and once in Italy we had a coffee stop at a rest station called Autogrill. You'll find Autogrill branches throughout Italy along the main highways. To my surprise they had plant-based milk for cappuccinos and vegan carrot cake, which was absolutely divine. The one branch even sold Alpro products, so next time when I'm going to Italy, I won't take as many things with me, as sometimes you'll find vegan options on the road. Always keep your eyes open.
If you travel by train it's probably wise to take snacks for the trip as well. I believe some restaurants on trains offer vegan meals these days. I haven't tried that yet and only heard that it's quite expensive to dine on the train. Depending on the country you are travelling in, most bigger train stations have some vegan options available. The budget friendly option is of course always taking your own food.
3.) ENGAGE WITH THE VEGAN COMMUNITY
I believe most vegans do it for ethical reasons and at the end of the day we work towards the same goal "a cruelty free world". Make use of the information the vegan community provides around the world. This can be in form of vegan groups on Facebook, various forums, twitter chats and for example Instagram accounts and blogs of course. I love using Facebook groups that are vegan travel related. Before travelling to a country, you can post questions about where to find vegan restaurants, vegan products etc. Sometimes you even have the opportunity to meet other vegans residing in that country or learn about local vegan pop up events etc. This is also a great tool when you are on the go and need instant information on vegan travel. In a group with a big following, there's always a good chance that someone will answer your questions almost immediately.
4.) USE APPS AS A RESTAURANT GUIDE
If you are not really into social media interaction, why not use restaurant guides.in form of an app? There are too many to mention out there. One of the most famous ones is obviously the Happy Cow Vegan App. I can also recommend the Vanilla Bean App which serves as a vegan restaurant guide with over 25.000 venues and information on gluten free, organic etc. Check out their website and see for yourself.  https://www.vanilla-bean.com/
5.) GO ON A VEGAN FOOD TOUR
This is my favourite tip. I think going on a vegan food tour in a city is a great way to learn about the local vegan scene. Plus you can get valid information on the city's plant-based eateries, local markets and shops. At the same time you discover historic parts of a place and spend the day with likeminded people. Who knows?..you might even make new vegan friends along the way. I think it's an absolute "win win" situation. If you are going on a city trip, definitely google for vegan food tours in advance. More and more cities offer it and you are welcome to put any information on vegan food tours in the comment section below. I believe most tours are available in English. If not, I think food is a language of its own and you'll have a great time regardless.
On that note. There's a good chance that I'll return to Berlin in June or July and I'll definitely do a vegan food tour with Vegan Tours Berlin. I've been in contact with Maja for a while and I think it's absolutely great what she's doing. Maja doesn't only offer vegan food tours, she also supports certain projects that you can learn more about whilst on tour. A part of the funds will be donated to certain animal organisations etc. If you are heading to Berlin, definitely check out her website and social media channels. I'll do a full blog post, once I've done one of her tours and seriously can't wait for that experience.http://vegantoursberlin.com/
That was my personal 5 VEGAN TRAVEL TIPS. I can't wait to hear about your favourite ones.
I'm excited to attend a vegan pop up dinner in Cape Town tonight. I will share that experience with you in my upcoming post.
Until then,
Antonia aka The Vegan Rainbow🌈
All images except the last two are mine. Thank you Vegan Tours Berlin for providing images.