Swellendam is a charming historic town, just 2 ½ hour's drive from Cape Town. It's the perfect getaway for a weekend or a convenient stopover between the Garden Route and the Mother City.
Since my first visit I absolutely fell in love with the historic buildings, friendly people and of course the food. Another thing I fell in love with is the most beautiful country house, "Schoone Oordt Country House".This Victorian beauty invites you to relax and enjoy the tranquil surroundings. Schoone Oordt is conveniently located in the heart of Swellendam, close to the museum, historic buildings and coffee shops. Go and explore – there's so much to do and see.
Charming rooms offer all the modern facilities you can dream of and thanks to the beautiful elements of the Victorian era you get a feeling of what life was like back then.
Schoone Oordt also caters for your vegan taste buds and a vegan 3-course dinner can be enjoyed in the beautiful restaurant 'The Conservatory'. Have I mentioned the freshly baked country bread yet?
From the first to the last minute you are not only treated like royalty, but as a friend. The friendly staff is always happy to help and they will spoil you rotten too. Enjoy exotic cocktails by the pool. Schoone Oordt loves to surprise you!
Whilst a vegan breakfast sometimes only consists of tinned fruit or baked beans, the Schoone Oordt team will go the extra mile to ensure you won't leave on an empty stomach. I was treated to vegan French toast and an almond milk latte.The almond milk also goes really well with Alison's famous granola. You definitely have to try it!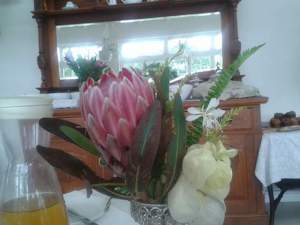 Swellendam has even got a fully vegan café and you should definitely visit Moonshadow Coffee & Gift shop. They make their own nut cheeses and offer daily specials. On the way out you should take time and browse through their unique shop. Why not take a bracelet that says vegan home as a souvenir?www.moonshadow.co.za
My mom (pictured below) and I can't wait to be back in  Swellendam. Have you been to Swellendam yet? Looking forward to hearing about it all in your comments.
Until next time