When I arrived in Cape Town in 2005, one of my first South African friends was a huge fan of Balducci, an upmarket eatery in Cape Town's famous V&A Waterfront. I've always loved the outdoor area, elegant ambiance and fine food.
As I went vegan a few years ago, I stopped eating out at many of my favourite restaurants, simply because I struggled to find vegan food – apart from the occasional pasta napolitana or vegetarian pizza without the cheese. Balducci was sadly one of the eateries that I would avoid, unless it was just for a cup of coffee in the afternoon.
You can imagine my excitement when I found out on social media, that Balducci had launched a dedicated vegan menu a few weeks ago. It was too good to be true, but the menu looked very promising. So when I received a media invite to attend the vegan chefs table at Balducci, I was over the moon and literally jumped up and down on my bed. Sorry not sorry, but a good old favourite eatery offering a plant-based menu makes my foodie-heart super happy.
What can you expect from the Balducci vegan menu? Let's have a look.
The new stand-alone Vegan Menu is creative and comprehensive with over 60 delicious options including:
• Juices
•Smoothies
• Power bowls made with superfoods and probiotics
• Soups
• Wraps
• Nachos
• Curry
• Pasta
• Asian Bowls
• Sushi
• Pizzas
• Burgers
• Desserts
• Hot and cold drinks
• Vegan wines
Favourites include Berry Frenzy Power Bowl, Falafel, Zucchini Tartar, Salad in a Jar, Red Thai Curry, Guacamole Rice Paper Wrap, Smokey Black Bean Burger, Spinach Green Pizza, Cashew Nut Cream Pasta and to end your vegan feast on a sweet note, the Vegan Cheesecake with a Berry Marble Swirl and Frozen Berries served with Coconut Vegan Yoghurt are highly recommended.
THE FOOD ITEMS I TRIED: 
SALAD IN A JAR: This dish was beautifully presented and I loved the fresh and crispy salad and dressing. Perfect as a starter or summer meal.
TRADER JOE PIZZA: Many vegans in Cape Town have been raving about this one and now I know why.This pizza is absolutely divine and will make you come back for more. It's a bit pricy for a pizza, but trust me, every single slice is worth its money.
Falafel: The falafel was very delicious and had the texture you'd expect from an authentic falafel dish. The tahini dip was full of flavour and I can highly recommend this as a starter option.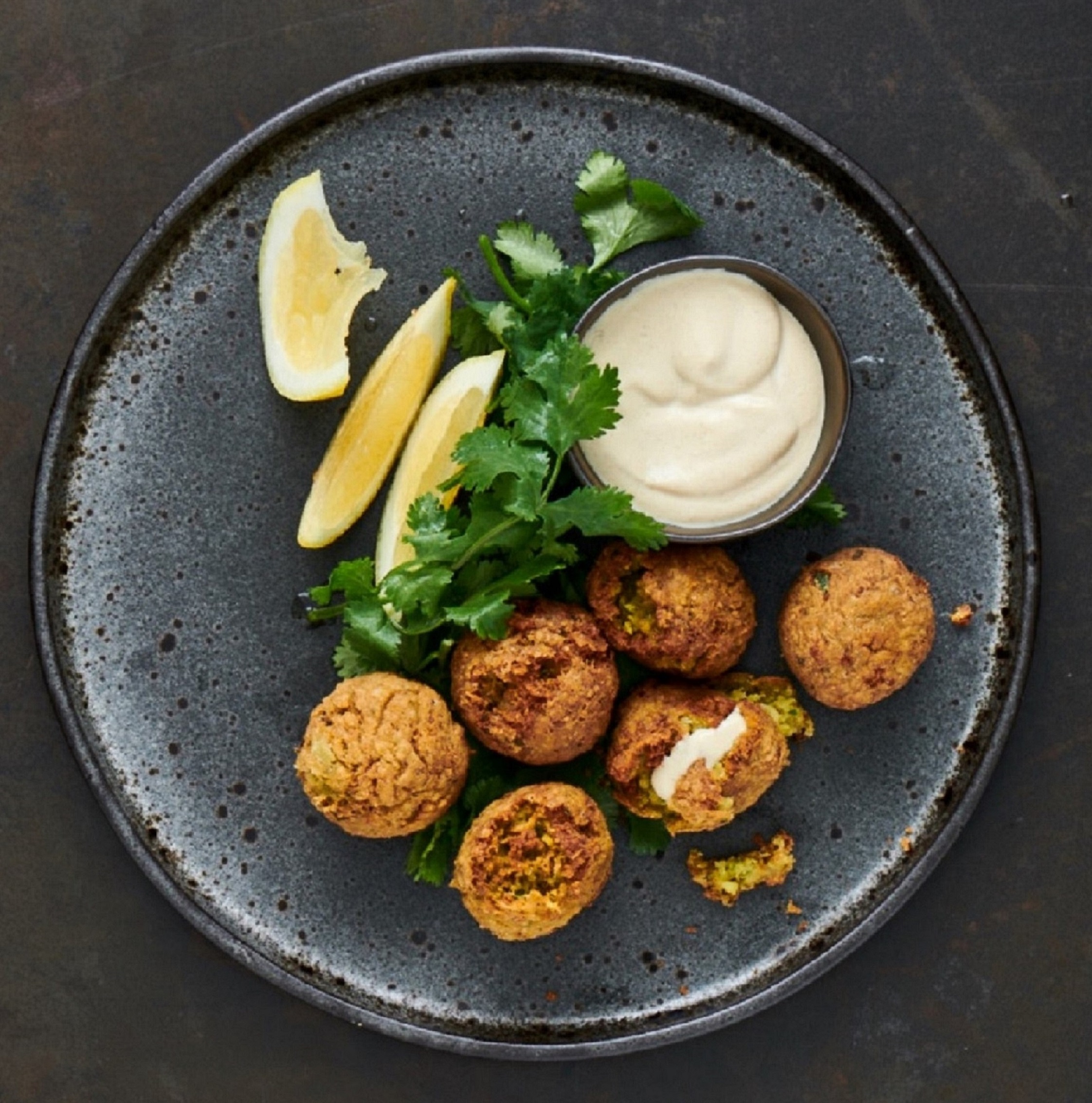 Cashew Nut Cream Pasta: that pasta was certainly one of my favourites of the evening. I enjoyed the creamy texture and cheesy taste. The vegan Balducci parmesan went very well with this meal. Highly recommended!
Thai Curry: To be honest, I had my doubts about a Thai curry at Balducci. Somehow I only expected Italian inspired dishes, but boy was I wrong.. The Thai curry was the surprise of the evening and the other guests agreed with me on that one. Imagine a rich and flavourful Thai curry with all the trimmings. This was one of the best Thai curries I've ever had and can highly recommend this if you are looking for a comforting and warming meal.
.
Smokey Black Bean Burger: Balducci is not an eatery where I would normally order a burger. There are so many vegan burger options in Cape Town. We got sliders for the table and I have to be honest here, the patty was a bit dry and some kind of sauce would have made this much more enjoyable. I know that the owners took our feedback to heart and I'll give the burger another try soon.
Dessert: We were lucky and got treated to a dessert duo. The vegan cheesecake was heavenly and I also very much enjoyed the berries with a coconut vegan yoghurt. Order two desserts and share with a friend 😉
Throughout the evening we enjoyed a selection of fine vegan wines from the Elgin Valley. You can view the full Vegan Balducci menu here: https://balduccis.co.za/balducci-vegan-menu/
Next time you visit the V&A Waterfront in Cape Town, make sure to book a table at Balducci and trust me, you are in for a feast. It's going to be hard to choose from the 60 item vegan menu but you'll love it. All plant-based meals are prepared in a dedicated vegan kitchen on the premises. How cool is that?
BALDUCCI GOES GREEN:
I'd like to highlight that wherever possible, Balducci Cape Town uses ingredients that are organic, seasonal, gluten-free, preservative-free, non GMO and loaded with vitamins and minerals. I was also thrilled to find out that Balducci cares about the environment and they try everything they can to be as green as possible. Balducci is part of the Slick Restaurant Group and their commitment to the environment includes the use of menus printed on recycled paper with sustainable ink, recycled paper bags printed with vegetable ink and phasing out the use of disposable plastic products. They only use recycled (FDA approved) paper straws and straws made from corn and maize starch, and Balducci supports alien clearing by only using alien wood types in their pizza oven.
BALDUCCI CONTACT DETAILS:
Shop 6162, Victoria Wharf, V&A Waterfront, Cape Town
Tel: (021) 421 6002/3 · Email: contact@slickrestaurants.com
Daily operating times: 11:00 – 23:00 / Booking advised
Website: www.balduccis.co.za · GPS / 33 54′ 14″ S, 18 25′ 16″ E
ENJOY BALDUCCI FOOD AT HOME:
Want to enjoy vegan Balducci meals in the comfort of your home? No problem – Balducci are delivering with Uber Eats, to areas as per Uber Eats delivery schedule on the Uber Eats App.
SLICK RESTAURANT LOYALTY PROGRAMME:
Join the Slick Restaurant Loyalty Programme and receive 10% of the bill total credited to your card, redeemable at any Slick Restaurant, as well as a R200 birthday voucher. I'm a proud SLICK card holder and happy to collect points.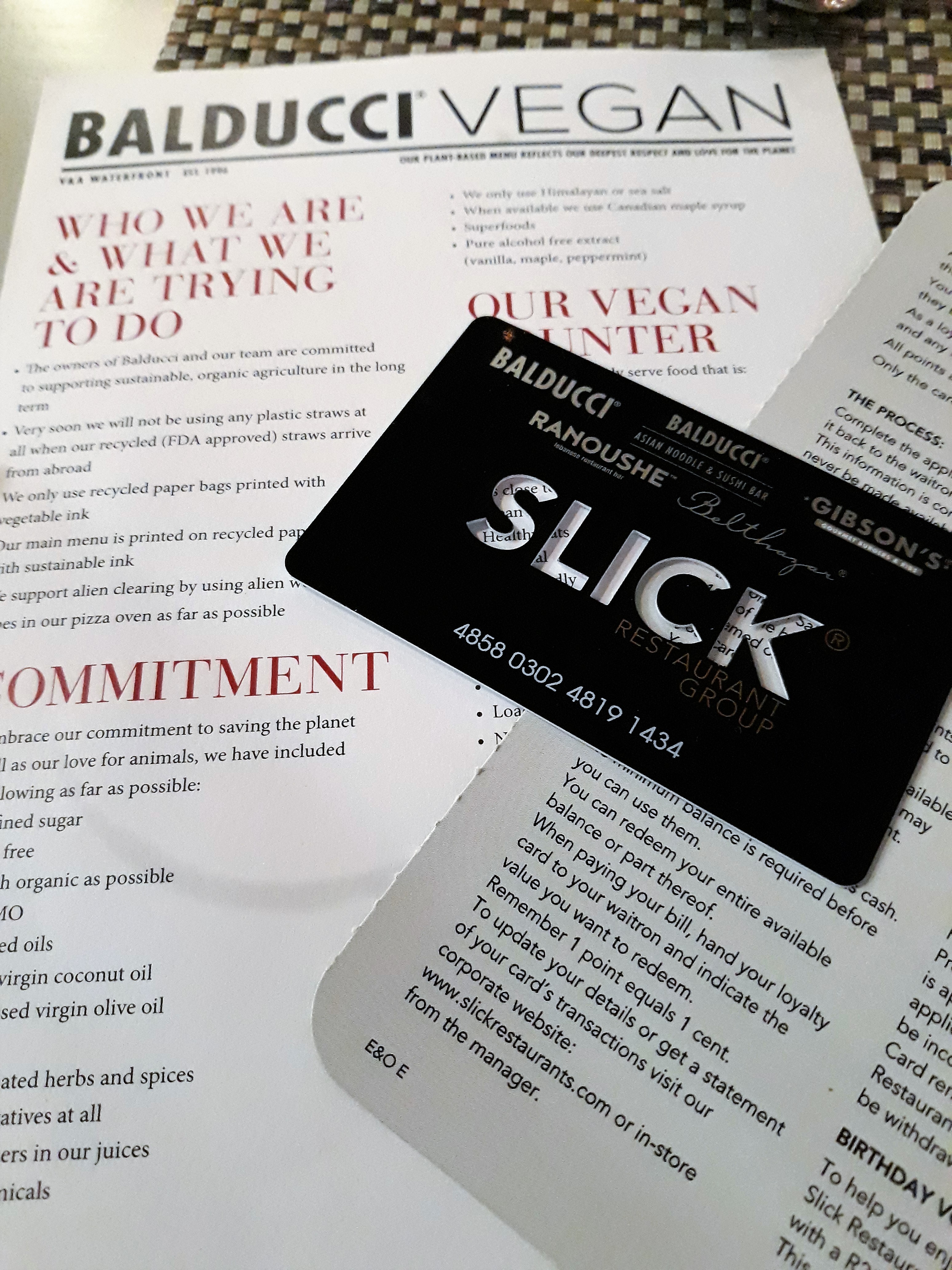 Thank you Balducci for offering us Cape Town vegans and tourists such an extensive vegan menu. I'll be back soon for more food and to get those points onto my Slick loyalty card 😉
Disclaimer: I've been hosted by Balducci Cape Town to try their new vegan menu. All opinions in this article are my own. All photo credits go to @Balducci