In my last post I already told you that the coastal town of Mossel Bay on the Garden Route in South Africa is a true gem that one should definitely explore. The most surprising thing about Mossel Bay for me was the food. To be brutally honest, I went there with an open mind, thinking that I might have to have the odd "emergency vegetarian meal". But Mossel Bay proved me wrong and I was catered for like a Queen.The one night, another blogger and I were fed so much food, that we looked at each other and decided to never eat again. There was so much vegan food on offer, that I thought of cancelling my flight back to Cape Town, rolling back home.
Since the South African December Holidays are slowly but surely approaching, you might start planning that trip along the famous Garden Route. The same goes for international travellers, that will explore the Garden Route over the summer months. Here's to hoping that you'll follow my advice and explore Mossel Bay and surrounds. To give you an idea of where to eat in and around Mossel Bay, I compiled a list of vegan-friendly eateries for you, As vegan travellers, it's vital for you to know, that the people in and around Mossel Bay are very down to earth and offer a warm hospitality. Even when you think you won't find anything vegan, just ask and explain to them what you can / like to eat, as they're eager to help. This is especially important when visiting smaller coffee shops or traditional Padstals (farm stalls / farm kitchens) on the road. The majority of the people in this area is Afrikaans-speaking, but the moment you talk in English, they'll switch over to English and will gladly assist.
Now I suggest that you put Mossel Bay on your "vegan foodie list" asap and visit the following places, that I enjoyed so much!
KLIPHEUWEL PADSTAL – Klein Brak Rivier 
If you are travelling in South Africa, you just have to stop at one of the traditional Padstals that can be found alongside the roads. This is where you meet locals and enjoy traditional food. I got to visit Klipheuwel Padstal, near Mossel Bay situated on the way to Botlierskop. The cosy padstal can be found in a charming old farm house that dates back to 1920. Have a look around, buy some bread, fresh vegetables or homemade gifts. I suggest having a meal at Klipheuwel, even though the word vegan isn't really heard of here. I might have been one of their first vegans ever, but the lovely lady running the Padstal listened very carefully to my request and came up with some traditional "Boere Food" and it was simply delicious. This is where you experience South African culture at its best. Perhaps take a screenshot of my food and show it to them when you get there. it's always a good idea to mention that you don't eat butter.
Klipheuwel Padstal Trading Hours
Monday to Sunday: 8:30 to 17:00
CONTACT DETAILS:
Tel No: + 27 (0) 44 696 6855
Address: Klipheuwel Farm, Klein Brak River (from the N2 take the Little Brak off ramp an turn inland)
BOPLAAS WINES TASTING ROOM – Kleinbrak Rivier 
Whilst you visit Klipheuwel, pop in next door at the Boplaas tasting room. Here you can taste and experience the range of the Boplaas Family wines, which I can highly recommend. I enjoyed a chocolate and wine pairing at the tasting room and would return any day. Relax under the trees and sip on those amazing wines.
CONTACT DETAILS:
Tel: 066 499 4320
Email: cool-bay@mweb.co.za
DEJA VU VINTAGE HOUSE / VEGAN HIGH TEA – Mossel Bay 
This is A MUST when visiting Mossel Bay. The Déjà Vu Vintage House, located in the heart of Mossel Bay offers a unique experience, that you'll never forget and you can expect to travel back in time of bygone days. Get dressed up in the vintage shop, take a seat in the charming tea room and enjoy a traditional high tea that is served in true style. Apart from the tea room, this venue also serves as a private movie theatre and vintage costume hire. This is the perfect place for special private events with a vintage theme. The high tea was truly unique and I indulged in a vegan feast that very much pleased my vegan taste buds.The loving and wonderful people running the family-owned Déjà vu Vintage House prepared savoury and sweet vegan delights and I could have sat with them for hours chatting away. Think food made with love and passion. I can honestly say that the team went the extra mile preparing the plant-based snacks. I'm still dreaming about the homemade rosemary biscuits and would drive back all the way to Mossel Bay just to get my hands on those 😉
FOR MORE INFO PLEASE VISIT; https://web.facebook.com/Deja-Vu-Vintage-House-224192967620928/?_rdc=1&_rdr
CAFE GANNET RESTAURANT  – Mossel Bay
You can't leave Mossel Bay without having dined at the trendy Café Gannet Restaurant. This stylish eatery is known as one of the best fish & seafood restaurants in Mossel Bay, but don't worry, they'll happily cater for us vegans. Just notify the professional team and they'll make your vegan dreams come true. Expect beautiful ocean views, elegant décor, fancy cocktails and delicious food. This is the place to be for food, drinks and holiday vibes. Since the restaurant mainly focuses on fish and sea food, you can enjoy vegan sushi options such as avo maki. I dined at Café Gannet twice and once had vegan sushi and the other time a hearty meal. On my second visit, the chef surprised me with an amazing vegan curry, that came with all the trimmings and a delicious desert. I hope you'll enjoy this place as much as I did.
FOR MORE INFO PLEASE VISIT: http://www.oldposttree.co.za/cafe-gannet 
VISGRAAT RESTAURANT – Glentana 
Another place you need to visit is Visgraat Restaurant. As the name might already reveal, this is a fish restaurant and I had my doubts. I've never been so wrong. The lovely Visgraat team surprised me with a 3-course vegan menu and I got reminded once again, that we mustn't avoid places, just because we think they don't cater for us vegans. Visgraat Restaurant is situated in Glentana, between Mossel Bay and George right on the beach front, offering breath-taking sea views. The décor of the restaurant reflects the ocean theme and you can expect excellent food with fine wines and an outstanding service. I enjoyed a warming red pepper and pea soup as a starter, a HUGE portion of a delicious vegan curry and a heavenly vegan dessert duo. If you are travelling along the Garden Route, please give them the chance to spoil you. I promise, you won't regret it!
FOR MORE INFO PLEASE VISIT:http://: https://web.facebook.com/visgraatrestaurant/?_rdc=1&_rdr
THE JACKAL ON THE BEACH RESTAURANT – Mossel Bay 
Last but not least, I have to introduce you to the BEST vegan pizza of the Garden Route, which can be found at the Jackal on the Beach Restaurant in Mossel Bay. It's not just the food that is special here, it's also the unique location with its historical background. The restaurant is located in the Santos Pavilion, that is one of the only two beach Pavilions still left in use today from Colonial times, the other one being the Royal Pavilion in Brighton. During the time that I lived in London, I occasionally visited the seaside town of Brighton and seeing the same sort of Pavilion in Mossel Bay, brought up many fond travel memories. The décor of the restaurant is elegant and in line with the maritime feel. Have a seat on the enclosed deck outside and tuck into a delicious vegan and gluten free pizza, whilst enjoying the striking beach and ocean vistas. It can't really get any better than this and following your relaxing meal, why not stroll along Santos Beach?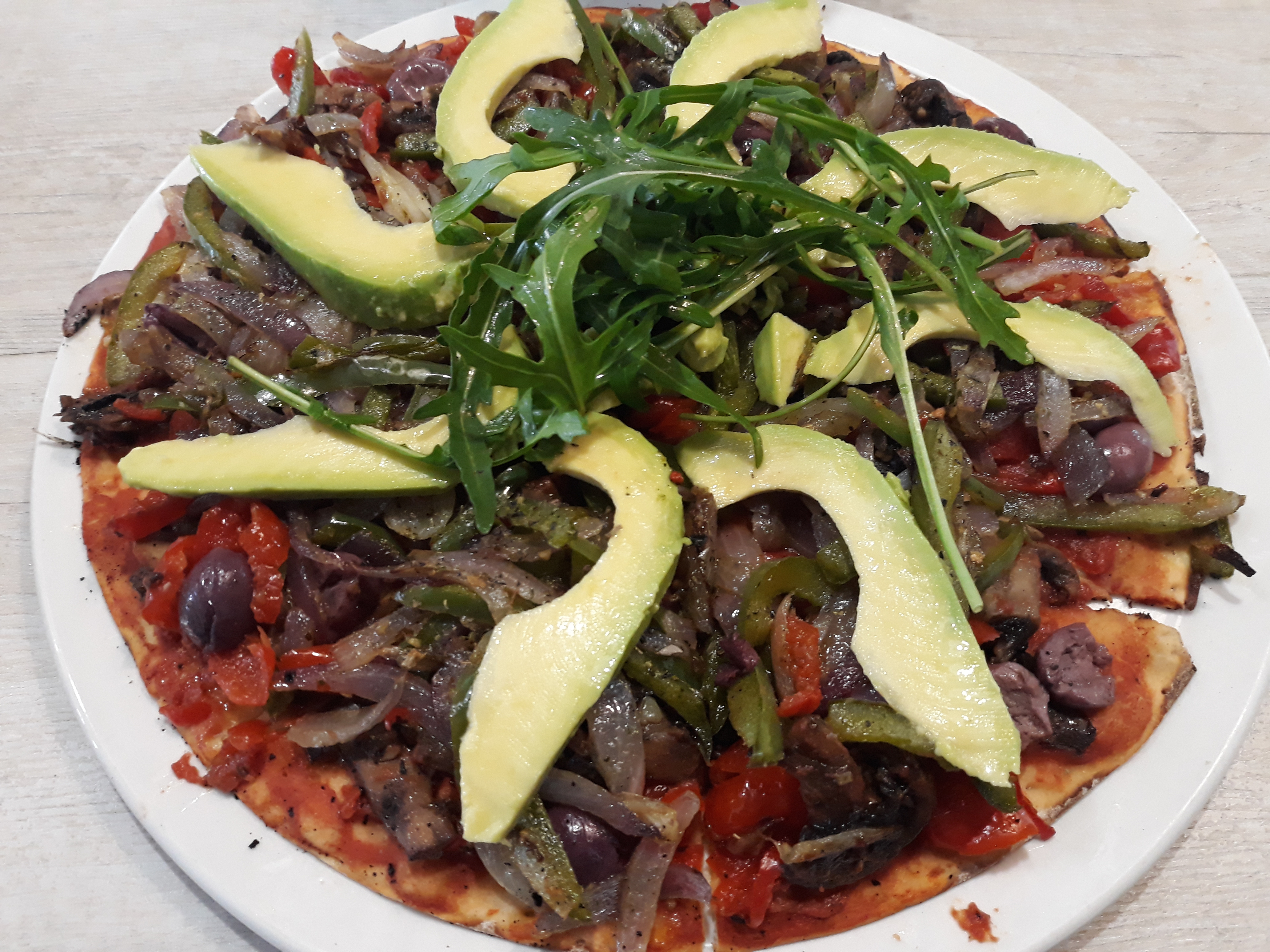 FOR MORE INFO PLEASE VIST: http://www.thejackal.co.za
Now, that you know where to eat in Mossel Bay, my next posts will give you ideas on where to sleep in the area and where else to find vegan food. Not forgetting some exciting experiences and tours. I'm sure you all want to find out more about my vegan wine pairing at Jakkalsvlei Wine Estate and the safari at Botlierskop Game Reserve.
Until then,
The Vegan Rainbow🌈
Disclaimer: I've been invited to all the above mentioned restaurants by Mossel Bay Tourism. All opinions and images in this article are my own.