I said it before and I'll say it again: going on a vegan food tour in a city is a great way to learn more about the local vegan scene and gather valid information on the city's plant-based / vegan-friendly eateries, local markets as well as shops. At the same time, you'll discover historic parts of a place and spend the day with like-minded people. Who knows? You might even make new vegan friends along the way. I think it's an absolute "win win" situation.
Cape Town is a vibrant city, that is hopefully on top of your travel list and guess what, the Mother City has got a plant-based food tour run by Eat Like a Local. Your guide Rupesh is not just an amazing soul walking the streets of Cape Town, he's a friendly, passionate and knowledgeable guide, ticking all the boxes. Having worked in the tourism industry myself for many years, I know what makes a good tour guide and Rupesh is an absolute pro.
What to expect from Cape Town's very first plant-based tour?
This walking vegan-food tour is a foodie's delight where you'll experience up to 7 food and drink establishments in 4 hours. During this time, you can obtain a unique perspective by exploring Cape Town on foot. If you are visiting the Mother City for the first time, then this is a great way to orientate yourself in the city. Rupesh won't just introduce you to amazing eateries, but also talk about interesting historical facts, whilst you admire the city's architectural styles and influences.
Rupesh was so kind to invite me on one of his vegan food tours, so I could experience it and learn what it's all about. I met him and the rest of the group at a centrally located coffee shop in buzzing Kloof Street at 10AM on a Wednesday morning. After a short introduction of the tour plus some basic Cape Town street rules (yup, the Capetonians reading this, know how people drive here..), we started our unique plant-based food tour. Rupesh kept on reminding us that this is a tour where we would sample bite-sized tasters of different dishes and that he won't be offended, if we didn't like something.
My heart was happy when we arrived at our first stop, PLANT CAFÉ. This is one of my favourite eateries in Cape Town and the owner Pierre Lambret welcomed us with an amazing tasting platter consisting of various tapas such as flatbreads with vegan yogurt, mushroom biltong, vegan cream cheese, carrot lox, black garlic imported from Japan and some healthy juices. We loved the interesting selection of the food and it was a great tasting experience to kick off the tour and to get to know the others in the group.  Since the day started on such a high note, we wondered what was still to come…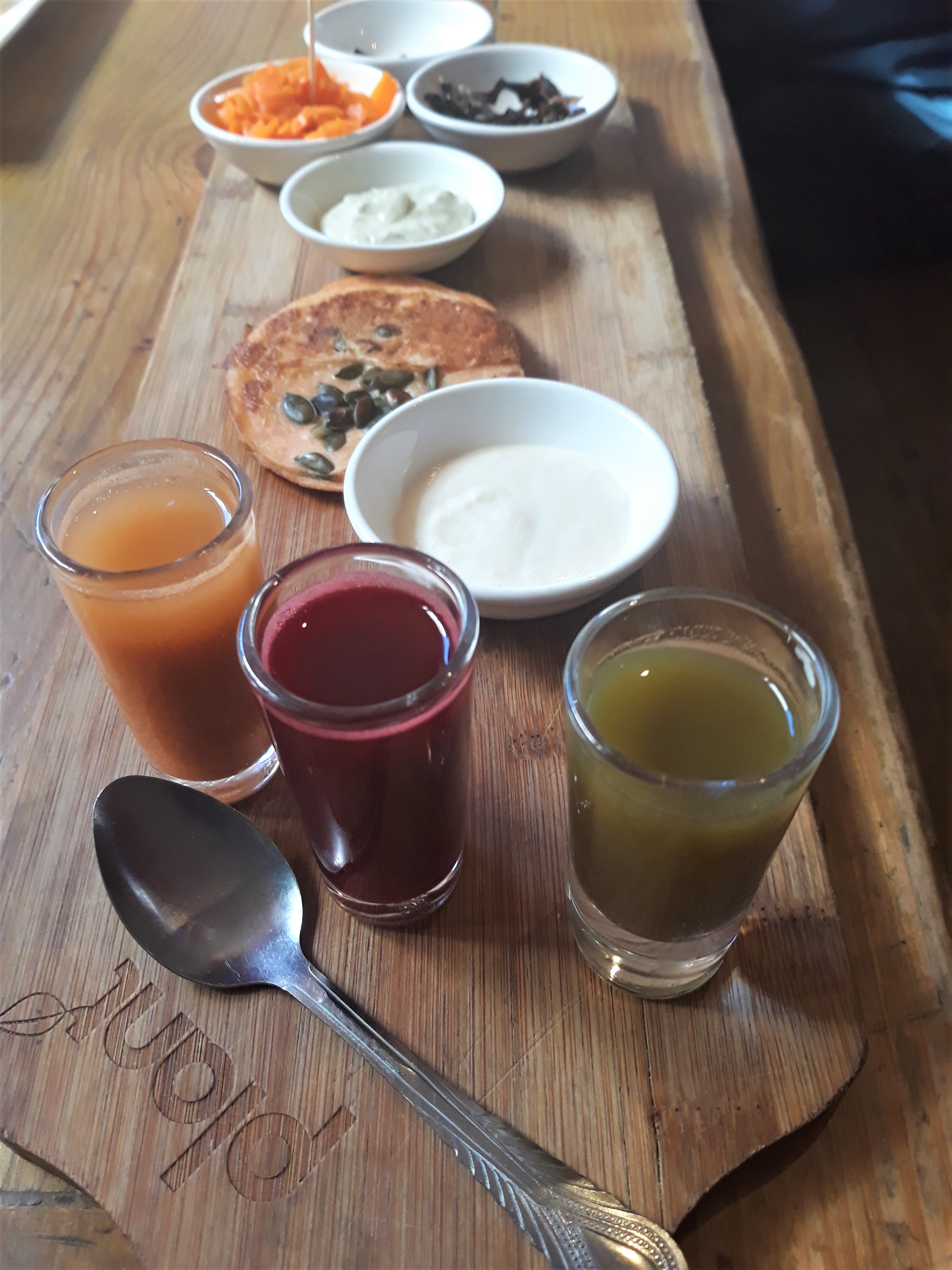 I won't go into much more detail about the other stops, as I don't want to spoil the many surprises that will await you along the way. What I can tell you is that you'll visit places that you didn't even know existed, even if you are a local. Guests from other parts of South Africa or international tourists will be able to soak up Cape Town's diverse vibe as you visit up to 7 iconic and hidden food institutions and try some tasty vegan treats and authentic flavours. Having lived and worked in the city centre for many years, I was surprised, almost shocked that I didn't know half of the eateries Rupesh introduced us to. To be honest I expected to visit more of Cape Town's familiar vegan restaurants, but Rupesh surprised us with hidden gems, that aren't really known to be vegan-friendly. One of the highlights for me was a visit to Harvest Café in the Bo-Kaap neighbourhood. Rupesh took us up to a roof-top terrace overlooking the famous colourful houses of the Bo-Kaap and the iconic Table Mountain. This is where you want to take photos my dear readers!  As if the views weren't incredible enough, Rupesh treated us to some vegan chocolate cake, that was beautifully presented and tasted as delicious as it looked!
Each and every stop impressed with the food and the location. Not forgetting an educational gin tasting with Cape Town Gin, which I definitely want to do again. I love the fact that we tasted so many vegan versions of South African authentic dishes, like samosas.
Another highlight was a visit to the Young Blood Gallery, where we didn't just look at the interesting artwork, but also got to enjoy homemade Vetkoek and other South African favourites. All plant-based of course. Have you ever dined in the middle of an art gallery?
We experienced many culinary and unexpected highlights. The tour ended with a vegan chocolate bunny chow.. Are you hungry yet?
My verdict on the vegan food tour:
The tour is amazing from A to Z. Rupesh is the perfect guide and the timing as well as the route of the tour is planned out to perfection. The distance between the various stops is just right and you get a chance to 'walk off' the food in time for the next experience. The total walking distance is about 3km. You can look forward to spending the day with locals as well as international guests and embrace the fact that you'll all share your different stories with each other. All of us were locals, but most of the participants didn't know half of the spots Rupesh showed us in Cape Town. Local is definitely lekker and I highly recommend doing this tour, regardless of where you are coming from.
Let's talk food: The bite-sized portions are perfect to get a taste of different flavours and you won't have a feeling of being stuffed. I enjoyed all the mouth-watering dishes on the day and cannot wait to go back to the various eateries. Some of them are quite hidden away.. I might just have to ask Rupesh, where to find those hidden gems again ;). The food satisfies every palate and you'll taste savoury and sweet dishes along the way. Guests get to enjoy a food and wine pairing, a beer tasting as well as an intimate gin tasting. (*Please note that offerings might vary from the ones that I experienced. Please contact Eat Like a Local for more info when booking a tour). I only recently found my love for gin, so this was perfect to learn more about it in the heart of Cape Town. With only a small number of guests (max 8 per tour), Eat Like a Local can guarantee an intimate experience and your expert guide will be able to answer all your questions about the different foods and historical buildings as you walk the streets of Cape Town.
Here are some facts about the vegan food tour with Eat Like a Local:
• Duration from 10:00am to 14:00pm. Check the booking schedule or email us for availability.
• Restrooms are available during the experience.
• Water and soft drinks are included. Tours with alcohol include wine tastings and a local beer.
• Dietary and allergy requirements by prior arrangement only.
• Experiences happen rain, shine or snow (the last being unlikely). Please dress accordingly
• Tours consist of small groups of no more than 8 guests per expert guide.
• Cameras are recommended to capture and share your experience.
• Suitable for ages 12 and up, and most fitness levels. Total walking distance is approximately 3km.
What are you waiting for? Book the plant-based food tour and get to know Cape Town's vegan offering. You can find all the information here: https://www.eatlikealocal.co.za/tour/plant-based-adventure-a-vegan-tour/
Thank you Rupesh for this amazing experience and well done on putting together this vegan food tour in Cape Town.
*Disclaimer: I was hosted by Eat Like a Local to experience the plant-based food tour. All my opinions given in the blog post are my own.