Are you looking for a 'staycation', weekend away or simply a lunch in the Cape Winelands? Read on as I'm sharing a little bit of a hidden gem with you today.
South Africa is very well known for its Winelands boasting famous towns like Stellenbosch, Franschhoek and Paarl situated in the Western Cape Province. Those three towns offer amazing wine estates, gourmet cuisine and beautiful landscapes without a doubt, but with this blog post I'd like to highlight a region renowned for historic Cape-Dutch homesteads, breath-taking vistas and small wineries. I'm taking you to the small town of Wellington, that is a 45-minute drive from Cape Town and about 15-minutes away from neighbouring Paarl. Like many, I'm also 'guilty' of always visiting the same old wine farms around Stellenbosch and Franschhoek, but I was recently invited to stay at Val du Charron Wine & Leisure Estate in Wellington, a vegan-friendly establishment.
On arriving in Wellington with my friend on a very hot day (40°), after a scenic drive from Cape Town my first thought was: "why have I not visited this place earlier?" To be honest I don't have an excuse and strongly feel that Wellington is totally underrated. Let's hope that I can change this with this article, making you want to travel to this little hidden gem soon. The driving distance from Cape Town is sort of in lines with getting to Franschhoek and I highly recommend that you drive those few extra kilometres to reach Wellington, a picturesque town that offers beautiful landscapes, excellent wines, hiking trails and a warm South African hospitality.
Why not make it a staycation, mini road trip? Whether you live in Cape Town or visit as a local or international tourist, stay at Val Du Charron Wine & Leisure Estate and enjoy wine tastings, fine cuisine and spa treatments. This is where South African hospitality comes alive at its best and the staff will make your stay one to remember. On check in, the reception team makes you feel like at home already and you get the feeling, that you arrived as a guest and will leave as a friend.
Accommodation at Val Du Charron
We stayed at The Guesthouse **** and I loved the country feel to our comfortable room. The Guesthouse consists of sixteen luxurious suites each with a balcony and stunning views of the vineyards/garden and the Hawekwa Mountains. There's one room without a balcony that may be booked on request.
In addition to the brand-new rooms upstairs, they recently refurbished most of the downstairs bathrooms with new frameless shower doors, floor to ceiling tiles and more packing space. The bedrooms have new dressing tables with fitted minibar fridges for the guest enjoyment. There's nothing better than taking in the vistas from your balcony with a good glass of wine.
Food at Val du Charron
Big disclaimer here: The team at Val du Charron is very happy and eager to cater for vegans when it comes to food but cannot be labelled as a "vegan hotel". I highly recommend that you inform them about your dietary requirements in advance on making a booking for a stay or lunch/dinner at one of their restaurants. Like with most places you visit, you'll find leather seats etc. around, but I trust that you appreciate the effort of a traditional wine estate catering for vegan travellers on the food side of things. The estate is home to two restaurants, 'The Grill Room' and 'Pizza e Vino'. As Pizza e vino is closed on Mondays (take note!), I couldn't try their menu options, but they offer vegan-friendly pizzas and I hope to try them on my next visit. Pizza e Vino is your casual and family-friendly dining option at Val du Charron.
Review of The Grill Room
Airy, understated European elegance optimizes this restaurant's interior, which is glass fronted to showcase the panoramic views from the vineyards and olive orchards to the blue-hued mountains that encircle the Wellington region. The Grill Room boasts an outside deck and I highly recommend choosing a table in the outdoor area to enjoy the spectacular views surrounding the estate. Wellington gets very hot in summer, but the evenings are beautiful and we loved the experience of having dinner outside whilst watching the sunset and listening to the sounds of nature.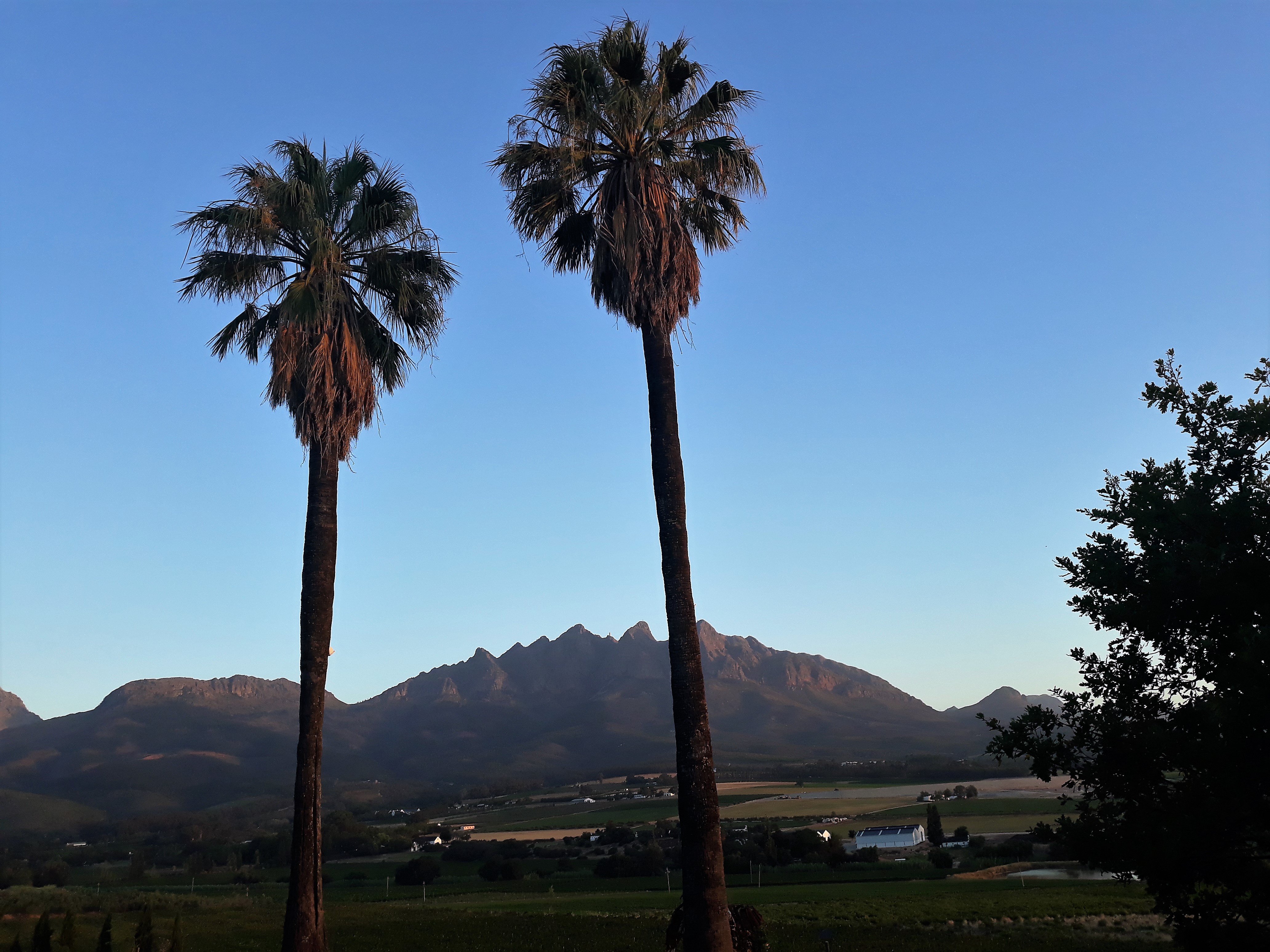 As the name reveals, The Grill Room is a steak restaurant but they prepared the most amazing vegan dinner for me. I was supposed to review Pizza e Vino, but as mentioned above they are closed on a Monday, which was the day we checked in. To be honest, I didn't expect too much from a grill restaurant, but the team went out of their way and presented me with a vegan 3-course menu with options to choose from.
Starter:
Mixed salad
Mains:
• Cous Cous with broccoli, mushrooms and butternut cubes, topped with sesame seeds
• Butternut Ravioli with mushrooms
• Butternut Squash with Cous Cous
Dessert:
Fruit Salad
Spoilt for choice at a steak house? Looking at the menu trying to decide on a dish, I realised that I often get cous cous when eating out, so it had to be the butternut ravioli with mushrooms. I love ravioli anyway and was very excited to try a vegan version of it. Our friendly waiter was very patient as he talked us through all the wines of the estate. After a 'mini' wine tasting we decided on a bottle of the Pinot Gris, which was the perfect wine for us and I even ended up taking a bottle back home with me. The farm is 42 hectares in size and consists of 21 hectares of vineyards, 4½ hectares of olives and a 400t cellar. The cellar produces hand crafted premium red and white wines for export. Val du Charron combines the rich traditions and natural beauty of the area with modern day comforts and technology to produce not only superb wines but an experience for their guests to remember.
To my surprise, the homemade vegan ravioli was one of the best meals I've ever had. It was just perfect and delicious, finding it hard to put all the aromas and flavours into words. The Grill Room is well known for their meat dishes, but they definitely know how to please a vegan as well and I think that they enjoyed this challenge. The salad which I ordered on the side complemented the meal well and I ate up the whole bowl of ravioli. The guesthouse manager explained that he made the pasta himself and I was totally impressed with his result. I know that catering for me was completely out of their comfort zone and I highly appreciate the effort that went into my meal. I hope you, my dear readers are aware that this is a positive step forward and that you won't judge me for eating out at a 'steak restaurant'. The portion was very satisfying and generous, hardly leaving any space for dessert. I shared the fruit salad with my friend and loved the fresh and cooling elements on this hot summer night. On that note, I slept like a baby in our comfortable twin room.
Rise and shine. The beautiful surroundings invite you for an early morning stroll before tucking into a hearty breakfast. There's nothing better than walking through the vineyards to catch the first rays of sunshine as nature awakes, especially during the harvest season.
Breakfast at Val du Charron
Again, I didn't expect too much and wondered what vegan options they'll come up with. The Grill Room is the main restaurant of the estate and this is where breakfast is served. The super friendly waitress on duty welcomed us for breakfast and immediately asked who her 'vegan friend' was. I raised my finger and she instantly enquired if I'd like my tea or coffee with soy milk. Sipping on my freshly brewed cuppa, the lady explained that they prepared something special for me, consisting of a bread basket, vegan health muffins and homemade baked beans with tomatoes and mushrooms.
The Grill Room did it again and impressed me with their breakfast that was delicious, beautifully presented and made with love. I absolutely enjoyed the vegan muffins and can confirm that the baked beans were home-made and not out of the can. Sit back and enjoy the breath-taking views whilst having a filling breakfast and a steaming hot cup of coffee or tea. This is how a holiday should start every morning.
What to do on the estate?
Val du Charron offers something for everyone – solo travellers, couples, families and of course smaller groups. Spend your day relaxing by the pool, in the comfort of your room on the balcony, in the spa or make use of the many hiking trails in the area and explore Wellington. Not forgetting the wine here. Val du Charron is a wine estate after all and you can enjoy wine tastings and interesting cellar tours during your stay. I asked the wine maker on the tour if the estate wines are vegan-friendly. Please note that Val du Charron wines are not labelled as vegan but currently (February 2019) don't contain any animal products.
Are you ready to explore Wellington? This is the perfect place to unwind and experience mother nature at her best.
Day trips to Val du Charron Val du Charron can easily accommodate tour busses for tastings, vineyard tours, cellar tours and meals. Their unique wine tasting experience, The Theatre of Wine, has become renowned and is now translated in to French, German and Dutch. They are also winners of this year's prestigious Drinks International Most Innovative Approach Wine Tourism award.
Please give Val du Charron a chance and stay with them. The team is very open to cater for vegans and I strongly hope that you can live with the Grill Room being a 'steak restaurant' that shows images of cows and the difference between grass-fed and grain-fed cows on charts. Most of the places we visit on a daily basis are not vegan and I feel that whenever someone is trying to cater for us, they deserve some support.
Contact Details:
For bookings and info please visit: http://wwclw.vdcwines.com
Contact: Catherine Entwistle ce@vdcwines.com | Tel:021 873 1256
Facebook: http://facebook.com/valducharronwines
* Disclaimer: I was invited to stay at Val du Charron Wine & Leisure Estate on a DBB basis. All opinions in the article are my own.